Our product reviews return with a look at two very cool devices, the Sportiiii and the Viiiiva.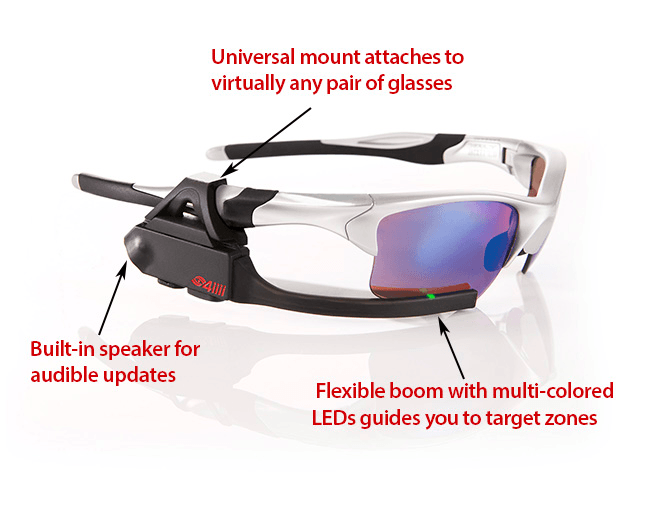 If you make use of heart rate and power zones, along with cadence, pace/speed, both of these devices will make your life easier whether training indoors or outdoors.
Sportiiii
The Sportiiii, attaches to your eyewear, and offers a convenient and safe way to monitor your zones without taking your eyes off of the road. A quick tap on side of the device and you'll get an audible notification of the actual reading, such as "heart rate is 125 bpm." You also toggle through the various menu options with tapping as well. Very simple, quick, and easy to use.
You can customize your zones and set up which colours will illuminate on the Sportiiii (see the blue light above) to indicate which zone you are in. By connecting to any ANT+ device of your choice,  you can set up your zones and colours to monitor heart rate, power, cadence, or speed. The 17 hours of battery life is pretty sweet too. A quick recharge via a USB cable and you'll be all set to train again.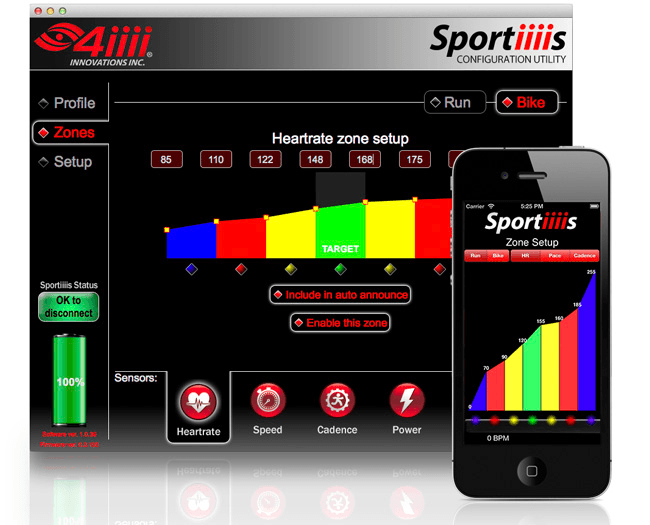 After regularly riding with the Sportiiii, it's one of those devices that you think you'll never need, but once you start using it, you'll miss it if you don't have it. It's not annoyingly intrusive at all. Just attach it on to your eyewear (you can easily detach and reattach it to your eyewear of choice that day), turn it on and do your thing while it monitors your performance with LED's.
In terms of safety, you can keep your eyes focused on the road, and not have to glance down at your watch or bike computer. There are enough distracted drivers on the road and we shouldn't add to that problem.
The Sportiiii works in perfect synergy with the Viiiva (reviewed below) and 4iiii packages both together as the Cliiiimb to provide some savings compared to buying them separately.
Viiiiva
On the surface, the Viiiiva might seem like a simple heart rate monitor strap, but with 4iii's Liiiink Connectivity Module, it allows you to connect with all your ANT+ devices, and route that information to your favourite Smartphone application via Bluetooth to use as a bike or running computer or take advantage of the growing number of cycling/exercise apps or the equipment at your gym. No extra expenses or adaptors required!
During our testing, the heart rate and ANT+ signals were rapidly picked up and the connection made to the App of choice. The data was accurate, immediate, and there was no signal drops.
The Viiiva can also save 65 hours of data, where you can transfer it to another device or application for you to analyze later or forward to your coach.
For those that want to use Zwift, this will make connectivity as simple as can be with your existing ANT+ equipment.
Provided you are amenable to using a heart rate strap course. Simply put on the strap, the Viiiiva collects the ANT+ signal, then transfer it via Bluetooth to your smartphone or tablet.  And if you really don't need the heart rate info and just power, you don't even have to wear the strap with the Viiiiva. Just use it to make the ANT+/Bluetooth connection, and bridge that data over to the App.
Check out more from 4iiii, a Cochrane, Alberta company. Their Precision power meter is gathering lots of attention. 
https://multisportcanada.com/wp-content/uploads/2019/05/MSC-Tri-Series-Martins-Logo-long-web-3.png
0
0
roger
https://multisportcanada.com/wp-content/uploads/2019/05/MSC-Tri-Series-Martins-Logo-long-web-3.png
roger
2015-05-03 14:37:53
2017-01-10 11:18:21
A look at the Sportiiii & Viiiiva